!

This article is a disambiguation page for The Matthews Family.
This disambiguation page lists articles with the same name. If an internal link led you here, you may wish to change the link to point directly to the intended article.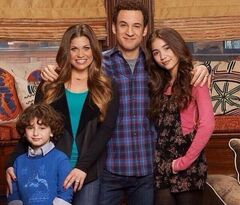 The name "Matthews" could refer to any member of the Matthews family, including:
Riley Matthews, the central character of Girl Meets World
Cory Matthews, Riley's father, and central character of Boy Meets World
Topanga Matthews, (née Lawrence) Riley's mother
Auggie Matthews, Riley's brother
Alan Matthews, Riley's paternal grandfather
Amy Matthews, Riley's paternal grandmother
Joshua Matthews, Riley's paternal uncle
Eric Matthews, Riley's paternal uncle
Morgan Matthews, Riley's paternal aunt
Grandpa Matthews, Riley paternal great-grandfather
Bernice Matthews, Riley's paternal great-grandmother (Alan Matthews' mother)
Trivia
An additional child, Elliot Matthews, a brother one year older than Riley, was planned to be included in the series. The original pilot with Teo Halm playing the role, was shot in March of 2013. However, the part was cut and a new pilot with a new younger brother character, Louis (later Auggie) was filmed several months later in November of the same year.
Not much is known of Grandpa Matthews, Alan's father, other than his marriage to Bernice, and that he worked as a janitor in a small Philadelphia store for 40 years before retiring in favor of his son. He left behind a Buck Knife (now in Eric's possession), and a tool box. It is possible that his name was Sam, based on a line given by Shawn in the BMW Seaseon 4 episode An Affair to Forget, in which he lists two of Cory's grandparents' names as Nana and Sam. Although Nana is Amy's mother and Sam isn't specified as being Amy's father or Alan's father, Amy had a father called Poppy.
Gallery
| | |
| --- | --- |
| | The image gallery for The Matthews Family may be viewed here. |