"
I'd rather be a fool with you than to be anything without you.
"
"
Our first boyfriends, Maya, who knows how long that's going to last? We're going to meet new people all of the time. But if there's one thing I'm sure of in my life is that you are my extraordinary relationship, Maya.
"
"
Riley: Maya? What if we don't care about our boyfriends as much as we care about each other?
Maya: No, we'll just care for them in a different way.
Riley: What different way?
Maya: Less.
"
Maya and Riley is the friendship/romantic pairing of Maya Hart and Riley Matthews. They are known as Rilaya.
Maya and Riley have been best friends for years, they're like sisters and are very close to one another. Most of the time whenever Maya visits Riley she enters through The Bay Window in her room. The Bay Window is their special place where they solve many of their problems and they hold many of their "meetings" with friends there. Maya and Riley are both willing to sacrifice their happiness for the sake of the other and protect one another and try to make each other happy.
Moments
Maya convinces Riley to ditch school to go on the subway with her.
Maya taught Riley how to deal with boys by talking to Lucas.
Riley asks Maya if she's okay after she "breaks up" with Lucas.
Maya lets Riley fall into Lucas's lap and then looks over and smiles at her.
Riley states that she wanted to be exactly like Maya.
Riley talked to Cory and Topanga about how she's fighting for her best friend.
Maya convinces Riley to go over and talk to Lucas outside of class.
Maya tells Cory that she'll watch over Riley for him.
Maya tried to protect Riley from seeing that Lucas was talking to Missy.
Maya comforts Riley near a locker when Missy confronts her about Lucas.
Riley tells Maya how she wishes it was just her and Maya in the world.
They lay next to each other on the table.
They link arms when they go back to see Cory and Topanga and to continue the game.
They are laying together under the same blanket near the end of the long game.
Riley and Maya get into a major fight.
Auggie says "They love each other." and "They're going to marry each other."
Maya says that she did not want to live in a world without Riley.
Maya tells Riley that she loves her for who she truly is and how she doesn't need to be different.
Maya lies next to Riley, then rolls over her until finally lying on top of her and smiling as Riley giggles.
Maya says Riley has been more of a father to her than her own father Kermit.
Riley lets Maya be with Lucas at midnight because she cares about her.
Therefore Riley is protecting Maya and wants her to be happy.
She refuses to tell Maya how she feels about Lucas since she doesn't want to hurt her.
They share gifts with one another.
They both sit on the bench together with Lucas after midnight.
They both promise each other that they'll never leave each other's side.
Riley is extremely worried about Maya putting herself in danger.
Riley is proud of Maya avoiding to return to her old ways.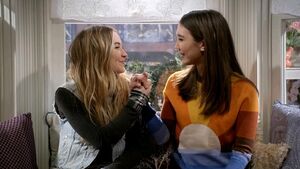 Riley tells Maya that she's the only one who's good enough for her.
Maya knows Riley would do the same for her in making sure she was with the right guy.
Riley says she would do anything for Maya even if it meant giving up Lucas.
Riley says that Maya is her extraordinary relationship.
Maya tells Lucas to tell Riley he loves her in order to make her happy.
Riley calls Maya's name once Lucas pulls a box out from his pocket.
Riley makes sure that Maya won't be hurt before her and Lucas become an official couple.
Riley and Maya debrief about Lucas and Josh together after the trip by The Bay Window.
Maya and Riley sleep together on Riley's bed.
Riley encourages Maya to being optimistic about her mother's marriage to Shawn.
They walk to the flower arch together and both cry during the marriage.
Maya stays to help Riley find her teddy bear.
Riley gets Maya a taco after missing the special day with her.
Maya decides to spend Christmas with Riley since they treat her like family.
Riley performs a skit for Maya along with Cory and Topanga to show her the true meaning of Christmas.
Maya is worried about her friendship with Riley after hearing Topanga's news.
Maya is happy that Riley is staying in New York.
Similarities & Differences
Similarities
They both attended John Quincy Adams Middle school.
They attend Abigail Adams High School.
They both have Cory as their teacher.
They are both females.
Farkle had a crush on both of them.
They both are talented singers.
They are both good friends with Shawn Hunter.
They both have a parent with a weird name: Topanga and Kermit.
They're both bridesmaids at Katy and Shawn's wedding.
Differences
​Riley has brown hair, while Maya has blonde.
Riley has brown eyes, while Maya has blue.
Riley has good grades while Maya's are relatively worse.
Riley has a brother, while Maya does not.
Riley has a stable family life, while Maya has a broken home.
Riley tends to stick with the status quo, while Maya prefers to rebel.
The Matthews are affluent; the Harts are less prosperous.
Riley generally acts neurotic, while Maya is always displayed an easy confidence.
Riley is more of an optimist; Maya is more of a pragmatist/realist.
Riley has a twisted need to fix things, while Maya leaves things be.
Maya is talented in art; Riley is not.
Maya lives on a bottom floor apartment, while Riley lives in an upper floor apartment.
Quotes
Riley: Why did you ask him?
Maya: How long do you know me?
Riley: Where are you taking him?
Maya: You think I would hurt you.
Riley: What are you gonna wear?
Maya: You don't think I have a bigger plan?
Riley: Can I at least be your Maid of Honor?
Maya: Pretty good scam for a chump.
Riley: Well, I have the best possible bad influence, don't I?
Maya: So that's nice, that's nice. Your dad's at school. Your mom's at our hang-out. That's nice. That's nice.
Riley: You're laughing at me?
Maya: Inside I'm crying so hard.
Maya: Look at us, Riles. Two youn' independent woman making their own road. Taking their own way with their guts and their brains.
Riley: Auggie now.
Maya: I don't see where else we can go.
Riley: This is a thing.
Maya: Not a whole thing. We check back on this twice, tops.
Riley: You told me you wanted to be a veterinarian. You told me you gave birth to a horse.
Maya: That had to hurt.
Riley: We should sing our happy song.
Maya: We don't have a happy song.
Riley: We should have a happy song.
Maya: We will never have a happy song.
Riley: Not with that attitude.
Maya: Look, we don't know the story yet. Let's know the story before you go to Riley Town.
Riley: I'm not going to Riley Town. I'm calm.
Maya: I like you better when you're not calm.
Riley: You knew that?
Maya: Well, it would have been anything I said.
Riley: I will not stink up the integrity of our bay window with this ridiculous argument.
Maya: You come here and stink it up, right now.
Maya: All right, weirdos. Listen up and listen up good. I've got like a minute before he walks through the door.
Riley: Who's coming through the door, Maya?
Maya: Your Uncle Boing.
Riley: Oh, are we stopping?
Maya: I'm not stopping. I'm resting.
Riley: Oh, are we stopping?
Maya: I'm not as young as I used to be.
Riley: Someone had the idea to put me in a bag. Did you hear about that?
Maya: Really? Well, you know, there's some bad kids out there.
Riley: You know, Maya, you can borrow any of my clothes whenever you want.
Maya: Thanks. You can never touch any of this stuff.
Maya: Riley, stop me right now.
Riley: From what?
Maya: I can't like a teacher. I'm Maya.
Maya: All right. How many of you knocked off a fish? How many fish you all knocked off?
Riley: Et tu, Yogi?
Maya: No, he ate three.
Riley: Am I supposed to ask you now?
Maya: That would certainly keep this going, so...
Riley: Maya?
Maya: Yes?
Riley: Do you have any idea what you want to be when you grow up?
Maya: No. But, being a teacher might be cooler than I thought.
Maya: Riley, they're goldfish. We're kids. Kids are the natural enemy of goldfish and the natural meal ticket of Fish Store Phil who makes a fortune off of us.
Riley: How can he make a fortune, Maya? They cost a dollar each.
Maya: He sells them to every kid in every school in every class in the tri-state area. You do the math! 'cause you know me and math.
Maya: I like Rileytown, what's wrong with it?
Riley: Riley Matthews refused to drop the marble!
Maya: She's on a mission Farkle you can't stop her.
Riley: Your safe place is me.
Maya: And I'm yours.
Riley: From the day we met.
Maya: Where are we going?
Riley: To find you.
Maya: I had a brick in my hand.
Riley: Why?
Maya: Because someone went after you.
Maya: These two girls I used to know. I could have been them. Riley, I would have been them because they think a hammer and a brick is what makes them strong and as much as i wanted to throw a brick through a window i know that if i did that it would make me weak. I'm strong because there's something inside of me that stops me now. It knows how important you have been in my life and it'll never let me do any real damage as long as i live. That part inside of me, I'm going to call it Dorothy.
Trivia
Riley and Maya's friendship is based upon Cory and Shawn's, although they seem to be much more physically close, such as leaning on each other and sleeping in the same bed. They also have a tendency to call each other names such a sweetie/sweetheart, peaches, etc.
Maya arrives at the bay window promptly at 7:00 a.m. to walk to school with Riley.
They are the founders of the Matthews and Hart Umbrella Foundation they created for a project.
They hosted the JQAMS morning announcements, but due to Riley's inability to speak properly on air (she introduces them as "Miley Flatshoes" and "Yama") Maya cannot stop laughing. 
They both met Farkle in the first grade.
Maya has a crush on Riley's uncle, Joshua Matthews.
Maya likes Riley better when she is not calm.
Maya loves Riley's family.
Maya sometimes has breakfast, dinner and/or lunch with her.
Riley sometimes calls Maya "Peaches".
Maya can take it when Riley lashes out at her, like when she had a bully.
They are each other's safe place.
Gallery
| | |
| --- | --- |
| | The image gallery for Maya and Riley may be viewed here. |
Videos
See also