Lucas and Maya is the friendship/romantic pairing of Lucas Friar and Maya Hart. They are mainly known as Lucaya.
Maya first noticed Lucas on the subway and had a "relationship" with him for less than a minute. It was later revealed that Lucas is in the same history class with her. Maya started sitting in front of him and their relationship is filled with banters and arguments which they have both acknowledged as a "game". Overall, they get along and it has been shown that they value each other's opinion and care for each other's feelings. The writers of the show have hinted to them as a possible pairing multiple times on their Twitter.
In Girl Meets Creativity, Lucas and Maya share a moment in the classroom when Lucas gets upset about the school taking away the art class and Lucas standing up for Maya and telling her to fight to let the school keep it, saying he cares about her happiness. It is revealed that Lucas used to refer to Maya as "the blonde beauty".
In Girl Meets Texas (Part 1), it is revealed that Maya has a crush on Lucas, which explains why she teases him a lot. [1]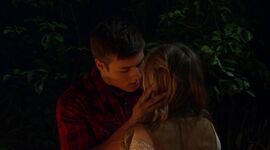 In Girl Meets Texas (Part 2), Riley tells Lucas that Maya likes him, and that she thinks that's why Maya teases him so much. After discovering this, Lucas holds Maya's face and he almost kisses her.
In Girl Meets Texas (Part 3) they went on their first and second dates, however they can't think of anything to say to one another. They both smile after Maya pours a smoothie on Lucas's head, for she is finally acting like herself..
In Girl Meets the New Year, they pair up for the Couples Game and each get questions that refer to their current pairings. Lucas gets a question that ask "How would describe your personality?: Library (Lucas and Riley) or campfire (him and Maya). Maya's question was "Is it possible to love two people at the same time?" (Josh and Maya) (her and Lucas). They both don't answer and instead eat their cards. On the rooftop Maya asks Lucas has she ever said anything nice to him, he replies saying no. She then says "Well, it's one minute to midnight, and I'm glad your standing here." and he responds with "Wow. that kinda makes up for everything" and smiles.. After Farkle reveals Riley's secret to everyone and everyone has left, the episode ends with cliffhanger of sorts for Girl Meets Legacy. It ends with Maya & Riley on a bench and Lucas between them with things being awkward and unclear.
In Girl Meets High School (Part 1), since Lucas still can't choose between the two, he refers Riley and Maya as girlfriends.
Lucas makes a choice between the girls but Maya interrupts him, saying that he chose Riley. He asks her what she wants to do, and the conversation is left open ended.
The two break up in Girl Meets Ski Lodge (Part 2) when Maya claims she never liked Lucas like that and that the only reason she fell in love with him was to see if he was a good guy for Riley, because she wanted the best for her best friend, so he then chooses Riley.
Moments
While taking Riley on her first ride on the subway Maya uses Lucas to show Riley how to talk to boys.
Maya is annoyed that Lucas is unaffected by her failed attempt to get him mad. Lucas is amused by it and tips his imaginary hat.
He brought Maya a rose and stopped his dance with Riley just to place a rose in Maya's mouth.
Lucas (along with Riley) looked concerned when they realized Maya's mother wasn't going to show up.
Lucas shuts Farkle up when he asked about the woman in Maya's painting, because it was her mother and was a touchy subject. This shows that he cares about her feelings.
Maya points out to Lucas that Smackle was just using him to make Farkle jealous.
When Maya was feeling discouraged looking at art by famous artists, Lucas tried to reassure her, and Maya teased him.
Lucas didn't want to tell anyone about his great-grandfather before the project because he knew Maya would make fun of him for "having a country-singing great-grandpa" and because he really does come from cowboys.
Maya sang a song that mocked Lucas.
Lucas declared it was his greatest day of his life when Maya said that her great-grandmother's name was May Clutterbucket.
Maya/May said that Lucas/Merlin was going to change the world.
Their grandparents seemed to be flirting with each other.
Maya and Lucas are grouped together to make a fake company for class called Hart and Friar Muffins.
Maya gives Lucas a new nickname: Huckleberry.
Maya recreated Lucas and his mother's conversation with a country twang.
Lucas stands up for Maya when Farkle's trying to get inside of her head while she's pitching.
When Lucas takes Maya out of the game to help Farkle, Maya thinks he's trying to ask her out.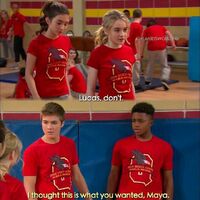 Maya tells Lucas and Billy Ross to hop down from their "Cloud of Awesomeness."
When Maya tries to storm out of the janitor's closet to find the person who bullied Farkle, Lucas easily picks her up by the waist to stop her.
Maya says she'll "jack [Lucas] up" if he tells Farkle what she said about him.
Maya expects Lucas to beat up Farkle's bully once they find him.
Although Lucas admonishes Maya for trying to use violence against Farkle's bully, when he finds out it was Billy he pins him to the locker.
Maya prevents Lucas from starting a fight with Billy by jumping on his back.
Lucas appoints Maya as his secretary, meaning he thinks highly of her.
While Maya is singing a song about him, Lucas pulls out a harmonica and plays along with her.
Maya asked Lucas out, suggesting that they put their hands in the popcorn together, etc (although she only did it to push Lucas and Riley together).
Lucas laughs when he hears Maya's middle name.
Maya reminds Lucas of his kiss with Riley (in front of Cory) as payback for making fun of her middle name.
Maya makes him feel uncomfortable and tries to press the situation.
They were both part of the "Riley Committee".
Maya called Lucas' grandfather Pappy Joe.
Maya was somehow right about Lucas's grandfather's name.
She already suspected something embarrassing about Lucas' story about his grandfather.
Lucas was expecting Maya to put something in even though she didn't want to.
Lucas finally retaliated to Maya.
Lucas seemed shocked when Maya seemed to break off the friendship.
When Eric asks Lucas why he lets Maya tease him, Lucas seems lost for words, showing that he may like her teasing and he wouldn't want to argue with her
Maya jumped on Josh's back, someone who she clearly shows romantic interest in. She has also jumped on Lucas' back in Girl Meets Flaws.
Lucas chooses Mayaville over Rileytown, despite his affection towards Riley.
Lucas asked Maya to call him Mad-Dog, to which she refused and called him 'the little lamb that Mary had' instead.
When Mr. Matthews wants "anyone who is gonna turn out well" to respond (not Maya), he chooses Lucas, causing Maya to look slightly offended.
When Mr. Matthews says, "Well, that's a shame guys, because this world's gonna belong to you soon.", Maya responds, "Oh, the one you messed up?" and Lucas agrees, saying, "Yeah, thanks anyway."
Maya calls Lucas by his real name, which has only happened in Girl Meets the Secret of Life and Girl Meets Flaws.
Lucas is shocked and immediately notices that Maya called him by his real name, and she responds by saying "I've always known your name," with a smile.
When Riley tells Miss Burgess that Lucas rode a sheep, Maya proceeds to describe it, saying, "62 pound, quad hoof, white fleece, kind you count before you fall asleep, ba ba."
Auggie reads a comic book (Archie, most likely), that Riley gave to him, and when Maya asks what he's learned from it, he responds, "Well, this dark haired girl and this blonde girl both like the same boy and they all stay best friends.", very much foreshadowing the Rucaya love triangle
They win Favorite Couple.
Everyone at school seemed to ship Lucas and Maya together.
Maya called Lucas by his real name again.
(At first,) Lucas and Maya were the only ones that were unchanged, despite having their own seemingly unwanted superlative in the yearbook. They were also the ones that stayed true to themselves the most out of the four.
Maya called Lucas by his real name again.
Lucas and Maya were dancing together at the semi-formal.
Lucas seemed flustered when Maya asked him why he was dancing with her, and said, "N-No, I'm not dancing with you."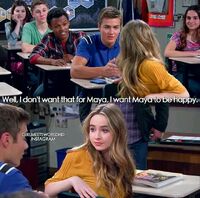 Maya said "Thank you, Lucas, but it's just an art class" in a very soft way to him and doesn't even notice that she called him by his first name.
Zay reveals that Lucas has referred to Maya as "the blonde beauty."
Maya thought that Lucas called himself "The Blonde Beauty", until Zay confirmed he was talking about her. She said "Oh" in a calmed way, until she realized and came with a surprised "Oh!".
Lucas is determined to bring back the art program for the sake of Maya's happiness.
This episode is finally the start of a romance between them.
Lucas was decided as the best choice to contain Maya in a duel between her and Riley, to which she asks him whether he can really contain her.
After Lucas breaks through the barricade to get to Riley, Maya is impressed by his physical strength and asks him to lift the bed up with one arm.
Lucas covered Maya's eyes so that she wouldn't see Riley getting physically hurt during cheer tryouts.
When Maya realizes the magnitude of her decision to sign Lucas up to ride Tombstone the bull, she passionately tells him she doesn't want him to do this and protests Riley's support of him doing so. She then tells Lucas that she won't talk to him anymore if he decides to ride the bull, which he does.
Maya was afraid something bad had happened to Lucas when he fell off the bull.
After Lucas successfully rides the bull, Riley notices Maya watching from afar and realizes that Maya likes Lucas.
Riley discovers that Maya makes fun of Lucas because she likes him.
After Riley declares in front of Lucas, Zay, Maya and Farkle that she loves Lucas as a brother, she tells Maya to tell Lucas how she feels about him.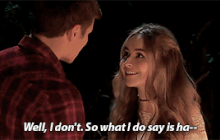 Farkle realizes that Maya likes Lucas.
Riley tells Lucas that Maya likes him.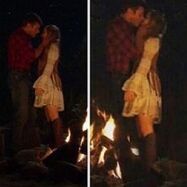 Lucas tells Riley that he doesn't think they're brother and sister, and the camera switches to Maya, who looks down at her lap with a heart-broken look.
When Lucas confronts her about her feelings for him, Maya initially tries to deny it by avoiding a direct answer and teasing him. However, this backfires on her, as when she leans towards him to say "ha-hurr", Lucas places his hands on the sides of her face and almost kisses her.
There was a kiss filmed for this episode, but it was cut.
Afterwards, Maya admits that she does like Lucas, and says he's a good guy, before adding that "If you got hurt, I don't know what I would've done."
When Lucas is talking to Tombstone the bull (meant to represent Maya), he says, "You gave me nightmares from the day I first looked at you. Then when I found out that I was gonna have a chance with you, well... that was about the scariest moment in my life."
In the cut scene, Lucas deepens the kiss and turns his head. As soon as Maya says "Hurr-hurr", he instantly stops her with the kiss.
Zay says that they like each other, but liked them better when Maya was teasing Lucas.
Maya pours her and Lucas' smoothie on his head when he starts to talk to her about helping delivering a baby horse, breaking the awkwardness.
They go on their first date.
Maya asks Lucas how he and Riley can have faith in a higher power, and Lucas responds that most of his moments of faith come to him when it's quiet.
Maya takes Lucas' words to heart, and when she finds a quiet moment at home, she says a prayer.
Maya tells Riley what happened between her and Lucas prior to the episode's airing.
There are references to the Lucaya scene in Girl Meets Texas (Part 2) and their dates in Girl Meets Texas (Part 3).
Maya admits she didn't hate when Lucas held her face and almost kissed her, meaning she liked it.
Lucas gets a question that says "How would you describe your personality?: library? (Lucas and Riley) or campfire? (Lucas and Maya). However he doesn't answer and eats his card.
Maya gets a question that says "Is it possible to love two people at the same time?" (Josh and Maya) and (Maya and Lucas). However she doesn't answer and, like Lucas. she eats her card.
Maya then asks Lucas if she has ever said anything nice to him, to which he says no. Maya then says, "Well, it's one minute to midnight, and I'm glad your standing here." Lucas then smiles and says, "Wow. That kinda makes up for everything."
When Farkle reveals that Riley still has feelings for Lucas, Lucas and Maya both look shocked.
After the reveal and everyone has left, Maya walks over to the bench and sits down looking sad and confused. Riley then joins her with a sad look on her face as well and then Lucas joins them and sits in between them. All three are awkward and things are left unclear between them.
Lucas repeatedly tries to make the midterm easier for her by making her only drop the marble, saying he'd pick it up and hand it to her, moving the beaker towards her and he put the ball in her hand.
Maya says Lucas has no faith in her scientific ability and he says its because she fell asleep in his hand.
Maya still has feelings for Lucas.
Maya is nervous talking about the campfire scene that happened between her and Lucas.
Lucas has feelings for Maya.
Maya is jealous (asking the question jealously) that Lucas smelt Riley's hair, and he looks at her with a upset expression.
Maya wants to be referred to as Lucas' girlfriend.
Lucas stands up for Maya when the seniors make fun of her.
Maya was intrigued about Lucas's message on Jexica's profile.
When Riley teased Maya by saying she'll have five marriages, Maya asked Riley if Lucas was one of them.
Lucas talks about how the campfire scene with Maya was a deep conversation.
Lucas says that Maya pushed Riley on the subway into his lap because that's the kind of person she is.
Lucas tells Katy that Maya gets her caring feelings from Katy rather than Kermit (though he probably knew this due to the events of Girl Meets the Forgiveness Project).
Lucas says he really cares for her daughter (Maya) to Katy.
Lucas calls Maya beautiful deep down.
He reminds her of his dark past, saying he's been down the road she's on.
Maya has a fantasy of her and Lucas being the power couple of the world.
They link arms.
They almost kiss for the second time.
Maya's fantasy is very flirtatious between them.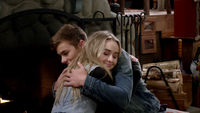 Maya talks to Lucas about how he shouldn't be upset with Riley talking to Evan.
Lucas thanks Maya for the deep conversation they had and they both hug.
Maya tells Lucas that he should be with Riley and to tell her he loves her.
Similarities and Differences
Similarities
They both had Cory Matthews as their seventh, eighth and ninth grade history teacher.
Maya's great-grandmother, May Clutterbucket, and Lucas' great-grandfather, Merlin Scoggins, were both musicians and singers. Coincidentally, they both met one another briefly back in 1961.
They both can play softball well.
They are both pitchers in softball.
They both tease each other.
They're both protective over their friends.
Both are known as rebels, since Lucas was considered one back in Texas.
Neither of them have siblings (that we know of).
They both have nicknames for each other.
They are both "passionate."
They both live in "Mayaville" but need balance.
Differences
Lucas is male while Maya is female.
Lucas is a country boy while Maya is a city girl.
Lucas has good manners while Maya does not.
Lucas likes school while Maya does not.
Lucas is considered the "good boy" while Maya is the "bad girl".
They tease each other in different ways.
Trivia
Most of the episodes that feature some level of attraction between Lucas & Maya (1961, Rules, Creativity, Texas Parts 1 & 2, etc.) are directed by Rider Strong, who portrays Shawn Hunter.
Maya has a total of 12 nicknames for Lucas (Heehaw, Ranger Rick, Ranger Roy, Bucky McBoingBoing, Hop-Along, Sundance, Huckleberry, Cowboy, Moral Compass, Golden Boy, Soaring Eagle, Lucas The Good)
Lucas has a total of 4 nicknames for Maya (Mocking Bird, Other One, Short Stack Of Pancakes, Blonde Beauty)
Maya teases Lucas' "country boy" attitude. On the contrary, Lucas seems to find her jokes funny and goes along, which annoys Maya even more. This is shown in Girl Meets Father, Girl Meets Boy and Girl Meets Friendship.
Lucas has made a habit of tipping an imaginary hat at Maya, and calling her "ma'am".plays
Both acknowledge their relationship as a "game" they are playing.
Maya sometimes bites her lip around Lucas.
They owned a fake company together.
They are protective of each other.
In Girl Meets Flaws, Lucas picked Maya up and, in a later scene, Maya jumped on him, both done to prevent them from doing something they'll regret later.
Maya and Lucas are voted best couple in Girl Meets Yearbook.
Maya has been known to go "Boing!" when she likes something or someone, such as Josh. One of Lucas' nicknames is Bucky McBoingBoing.
Maya likes when Lucas shows his Texas side as shown in Girl Meets the Secret of Life and Girl Meets Rileytown.
Lucaya is a bit similar to Jacey (Joey and Pasey) Of Dawson's Creek as they like to tease each other. Also Lucas is similar to Pacey due to his bad-boy and rebellious past. They are also similar to Chair (Chuck and Blair) of Gossip Girl as they love to play a game with each other like they did before true feelings were revealed. They are basically exactly the same as Luke and Sophia from The Longest Ride, since like Luke, Lucas is a cowboy and Maya is a city girl like Sophia. Plus, the boys have rode a bull and their relationship went from friendly to romantic.
Like the letters L and M (Lucas and Maya) in the alphabet, their seats are next to each other.
Like the classic set up in BMW, the female love interest is sitting in front of the male interest.
In real-life, there is a suburb in Freeport, Grand Bahama, Bahamas called Lucaya.
It is revealed that Maya has liked Lucas for sometime in Girl Meets Texas (Part 2).
In Girl Meets Texas (Part 2) Lucas almost kisses Maya. He almost gives her first kiss.
There was a kiss for Lucas and Maya in Girl Meets Texas (Part 2), but it was cut.
The writers have confirmed that Lucas and Maya will kiss at some point in Season 3.[2]
Maya knows Lucas' mother.
They almost kiss again in Girl Meets Ski Lodge (Part 1)
They share their first proper hug.
Sabrina Carpenter says that Lucas and Maya are experiencing some very confusing feelings in season 3.[3]
M Magazine has said that Lucas and Maya's relationship parallels Cory and Topanga's relationship.[4]
Quotes
Season 1
Maya: [to Lucas] Hi, I'm Maya. You're really cute. We should hang out sometime. You make me happy. You don't pay enough attention to me. This isn't working. It's you, not me. We can still be friends. Not really.
Lucas: I use my phone to videochat with my old friends and find out what's going on in Texas.
Maya: Yeah, how else can he keep tabs on all the hoedowns and cattle pageants?
Maya: Hey heehaw! You goin' to Tick Tock Shake Your Body Time? 'Cause, y'know, it's not a square dance, so, not gonna be a whole lot of do-si-do-in'.
Lucas: Well, then, I'm sure I'll have no idea what to do and you can make fun of me.
Maya: You're not playing this right.
Lucas: Well, that's certainly not my intention. I'll try harder next time.
Maya: I will break you.
Lucas: If that's what makes you happy, then, I certainly can't wait for it, [tips his imaginary hat] ma'am.
Maya [shudders in annoyance]
Maya: [dancing with Farkle]
Lucas: [dancing with Riley]
Maya: [notices Lucas' hat] The hat's just for me isn't it? You actually put thought into our little game, don't ya? [bites her lip]
Lucas: [takes a rose out of his cowboy hat and places it between Maya's teeth] I actually do.
Lucas: Get out of detention free.
Maya: Ooh, I could use one of those. Give me that and I won't call you Ranger Rick all week.
Lucas: Here you go.
Maya: Thanks, Ranger Roy.
Lucas: Let me guess. Ranger Roy is filling in for Ranger Rick?
Maya: All week.
Maya: These people all had something to say.
Lucas: Well, you only know that because they went ahead and said it.
Maya: You know, someday you're going to make somebody a wonderful fortune cookie.
Maya: That's not fair, Mr. Matthews. I had to listen to Lucas and his mother talk about good eatin' and wholesome livin' and the natural cornucopia of the earth's bounty.
Lucas: Have you ever even heard me talk?
Maya: [gets close to his face] Hurhurrrrr
Lucas: [smiles] Wow.
Lucas: I stand by our product, sir.
Maya: So do I. They're everywhere.
Lucas: All right, you're done, Maya.
Maya: What?
Lucas: I'm taking you out.
Maya: You're not my type.
Lucas: [twirling his lasso] You want to see a rope trick?
Maya:Will you stop distracting me with that? It's not like I actually believed you're a real cowboy.
Lucas:Yeah, 'cause if I was then I could do this. [loops rope over Maya and ties her up]
Maya: Hey, Ranger Rick.
Lucas: Hey, other one.
Maya: You want to go out with me?
Lucas: What?
Maya: You want to take me to a movie and put our hands in the popcorn at the same time and see what happens, or what?
Lucas: Yeah, he didn't like it at all when we talked.
Maya: It's true. It's like he wanted to talk all the time.
Lucas: Penelope?
Maya: Really, Huckleberry? You want to play with me right now?
Maya: I finally like you.
Lucas: She called me Huckleberry.
Maya: There's also the possibility I may have called him Ranger Rick once.
Lucas: Once?
Maya: Oh, yeah, Ranger Roy once. Ranger Rick is every day.
Lucas: Don't forget about Bucky McBoingBoing.
Maya: Oh, that was a fun day.

Eric: And why do you do that?
Maya: Because he let's me.
Eric: Oh, well then why do you let her?
Zay: Yeah, I'd like to know that myself.
Lucas: Maya, if there's no good kids out here noticing us, then what's the point?
Maya: You questioning my leadership, hop-along?
Lucas: Okay, these names you're calling me are killing my street-cred.
Maya: Aw. And what would you like me to call you?
Lucas: I'd like you to call me Mad Dog.
Maya: You don't seem like a Mad Dog to me.
Lucas: Well, what do I seem like to you?
Maya: You know that lamb that Mary had?
Lucas: I don't like the way that this is going.
Maya: Well, maybe we don't have a vote Lucas.
Lucas: Did you just call me Lucas?
Maya: [small smile] I've always known your name.
Cory: Well, that's a shame guys, because this world's gonna belong to you soon.
Maya: Uh, the one you messed up?
Lucas: Yeah, thanks anyway.
Maya: What'd you get, Huckleberry?
Lucas: I got "Most Likely to be Okay With Anything That Ever Happens."
Maya: How do you feel about that?
Lucas: Well, actually I'm okay with it - Oh!
Lucas: How will you be remembered?
Maya: Did they do it to you again?
Lucas: "Most likely to be Farkle: Farkle."
Maya: Maya: [as Riley]Aww, Lucas, you're a very sweet guy. That's why I always liked you since I fell onto your lap on the subway. It's why we should have been favorite couple. Because we're so much alike. You know, it's like we're two sunshiney people from the same sunshiney family. That's why I like you so much. It's like you're my brother. Oh. It's like he's your-
Lucas: Maya, you're the most secure person in this classroom. You have a great life. Why would you change? Okay, not great life. Your family life could be, you know, better. But at least at school you're here a lot.
Lucas: How is that possible?
Maya: How could anybody ever see me and Lucas as a couple?
Yindra: Everybody does.
Lucas: (sees Maya dressed like Riley) No! This is your solution, Maya?!
Maya: (shyly) Hi
Lucas: (gives dreamy look and smile) Hey.
Maya: (shyly) Hi
Lucas: No!
Cory: So, why were the dark ages dark, Pippin (Farkle)?
Farkle: People lost interest in art and music because it was taken away from them.
Lucas: [slams the desk] Well, I don't want that for Maya. I want Maya to be happy.
Zay: Hey Maya, looks like Lucas is getting all fired up on your behalf.
Maya: [shocked at his sudden outburst of kindness] Thank you Lucas, but it's just an art class.
Lucas: I feel bad. They're taking away something you are very good at.
Maya: You've never said that to me before.
Lucas: I've said it.
Maya: Yeah, but not straight to my face while you were looking at me. I can't remember--
Lucas: You're a great artist, Maya. [Maya just looks at him]
Zay: Well, he's looking at you now.
Lucas: You have a real talent. And I want you to be able to get better and share it with people. [Maya looks at him curiously]
Zay: Now they just lookin' at each other not saying nothin'. Are they saying anything? No? I wonder what they're thinking. [Riley looks back and forth between Maya and Lucas, who are both still gazing into each other's eyes]
Lucas: I don't want them to take away your art class, Maya. [She glances down and looks back up at him]
Riley: Bay window. Bay window right in five hours. [Maya finally breaks eye contact with Lucas and glances back at Riley, as if she was just woken up from a different mind state]
Maya: Quit looking at us, Huckleberry.
Lucas: I'm sorry Maya. You look... good.
Maya: Oh, thanks.
Riley: (to Maya about Lucas) You couldn't watch him, because you were afraid something would happen to him. Because you like him. You make make fun of him, because you like him.
Lucas: Maya, are you seriously not gonna talk to me?
Maya: You could have gotten hurt on that stupid bull! What do you think you getting hurt would have done to the people who-?
Zay: Care about you? I think you were gonna say care about you.
Riley: (to Lucas) Maya likes you.
Maya: Riley!
Riley: She's been hiding it all this time. It's why she couldn't watch you at the rodeo.
Maya: What are you doing?!
Riley: I saw you, Maya. I saw how much you cared. (turns to Lucas) It's why she make fun of you, I think.
Lucas: Maya, why do you make fun of me?
Maya: Because you're easy to make fun of!
Lucas: Okay, then stop.
Maya: Because you're a Huckleberry! Because you're a Ranger Rick--
Lucas: Would you stop?
Maya: Look, if I had feelings for you, don't you think I'd just come out and say it? Well, I don't, so what I do say is ha-hurr! [Maya leans forward and Lucas instinctively cups her cheeks in his hands, centimeters and seconds away from a kiss]
Lucas: So, Joan of Arc. I think she was kind of amazing.
Maya: Lucas, what is it that makes people like (about Riley) her and you have faith in all her power? Riley of Arc is trying to push me there, but I'm just the type of person who doesn't like to be pushed, you know?
Lucas: (laughs) Yeah, I noticed. I don't think you could be pushed in something that's important anyway. Even by a Riley.
Maya: Yeah. Joan of Arc thought she had a voice in her head.
Lucas: (laughs) Yeah. Look, don't expect it to be so big, loud, and obvious. For me, most of what I believe comes to me when it's quiet.
Maya: Yeah, I don't get a lot of quiet. What do you do?
Lucas: (smiles) I don't know, you just...you just listen.
Riley: How long are we avoiding this?
Maya: Not avoiding nothin'. Just like moving on from that thing that happened between me and Lucas. (Riley makes kissy noises and a face at Maya.) I know what it was, you don't have to fish face me. (Riley continues the action) There wasn't a kiss!
Riley: There wasn't?
Maya: No.
Riley: What was there?
Maya: He just...grabbed my head and stared at my face real close. (Riley holds Maya's face) Yeah, just like that, yeah.
Riley: That's a good move
Maya: I didn't hate it.
Riley: Let's discuss.
Maya: Let's not. Other things are happening. Life has gotten over this.
Riley: Life isn't over it, Maya. He held your face, you went on dates, you poured a smoothie over his head, that's a good move.
Maya: I didn't hate it.
Riley: But what are you guys? Life wants to know, Maya, life wants to know right now!
Maya: No, it doesn't
Riley: It does. Look around, nothing's happening. Maya, until we talk about...(grabs Maya's face again) nothing is happening, again.
Lucas: Hi.
Maya: (smiles) Hey, Huckleberry.
Maya: How would they possibly...
Lucas: ...know anything like that?
Maya: This spot taken?
Lucas: I was saving it.
Maya: For who?
Lucas: I don't know anymore.
Maya: Hey Lucas, have I said anything nice to you?
Lucas: No.
Maya: Well, it's one minute till midnight, and I am glad that you are standing here with me.
Lucas: Well, that kind of makes up for everything.
Season 3
Lucas: What would you like to be called?
Maya: Girlfriend, equally as much.
Lucas: Don't look at me.
Maya: (pulls Lucas up by his shirt) I'll look at you whenever I wanna look at you, Huckleberry.
Lucas: Everybody's stronger than me.
Lucas: (to Katy about Maya) I care about your daughter very much.
Lucas: Deep down, Maya's beautiful.
Lucas: Maya what's going on with you?
Maya: It's like I don't have a role here anymore, Riley the sweet, Farkle the genius, Lucas the good.
Lucas: Aw, I thought that was gone...
Maya: No, I'm gone I'm the one that's gone.
Lucas: Maya, I've been down this road before. I missed a whole year of school thinking I had to be something that doesn't get you anywhere.
Maya: Oh well, I might of had a brick and a hammer and I might have swung them over my head a little bit an ran right towards them like I was-
Lucas: Maya, so your Maya again?
Maya: They seem to think so, they ran away so fast.
Maya: (about Lucas) Gorgeous is with me.
Maya: We're the power couple of the world. And nothing can tear that apart. (leans in and almost kisses Lucas)
Maya: You can't hurt me, can you?
Lucas: I could never hurt you.
Gallery
| | |
| --- | --- |
| | The image gallery for Lucas and Maya may be viewed here. |
Video Gallery
| | |
| --- | --- |
| | The video gallery for Lucas and Maya may be viewed here. |
Shippers
Please add your name to the list in alphabetical order if you are a Lucaya shipper!
BillieRocks
NopeNoName

shadowgirl07
Notes:
Disney stars China Anne McClain (A.N.T. Farm),Jake Short (A.N.T. Farm, Mighty Med),Piper Curda (I Didn't Do It), and Sabrina Carpenter (Girl Meets World), as well as Peyton Meyer (Girl Meets World) who play the role of Maya and Lucas respectively, have also stated that they ship Lucaya.
All the kids in Cory Matthews class ship Lucaya, especially Yindra, Sarah, Wyatt, Haley, Darby, and Jade
The GMW writers have also said they ship Lucaya, loving their relationship.[5]
References