"
Tonight, three tingling tales of terror all about fear. What are you afraid of? Hm?
"
Girl Meets World: Of Terror is the eleventh episode in season 1 of Girl Meets World. It aired on October 2, 2014 to 2.2 million viewers.[1]
Overview
The kids face a trilogy of terror when Riley has a sleepover at Maya's with her grandmother Gammy Hart and pet ferret. Auggie confronts the monster under his bed and Farkle tackles his most terrifying fear yet: playing softball.
Plot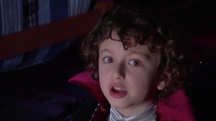 Auggie greets the audience and prepares to tell three Halloween stories, with occasional interruptions from Topanga trying to get him to come to dinner.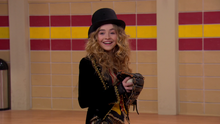 Story 1 (Farkle): Due to the inclement weather, the students are playing softball indoors, and Lucas manages the team on which Maya and Riley play; Maya is pitching and Riley is playing third base (and cheerleading). Farkle's team is up to bat, but Farkle is intimidated by Maya's strong pitching and doesn't want to step in the batter's box for fear that he'll get beaned. Farkle decides to play mind games with Maya by striking wacky poses as she winds up to pitch. His tactic works, causing a now-unnerved Maya to throw two straight pitches way outside of the strike zone, so Lucas moves Maya to shortstop and takes over on the pitcher's mound. He intentionally hits Farkle with his first pitch, but to Farkle's surprise, it doesn't hurt. Realizing he was scared over nothing, Farkle demands Maya return to the mound, only this time he is ready for her and successfully gets a hit (which the viewing audience only hears).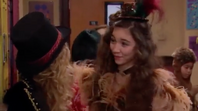 Story 2 (Riley): After gym class, Lucas and Farkle make plans to go trick-or-treating around the city. Riley suggests a sleepover at her house with Maya, but Maya insists they do it at her place instead. Cory supports the idea, noting that in the past Riley has always been afraid of sleeping at Maya's, so much so that every time she secretly called Cory to pick her up in the middle of the night. Riley reluctantly agrees to go, and again finds herself having a rough go of it. While attempting to sleep, Riley is frightened by shadowy silhouettes displayed on the wall that appear to be getting bigger and bigger, and then is spooked by Maya's grandmother, who came into the room just to check up on the girls. As she leaves, two costumed kids pop up in the window and scare both girls; they unmask and reveal themselves as Lucas and Farkle. After they leave, Riley finally admits that Maya's neighborhood isn't so scary after all when unmasked. The girls decide to stay up awhile and take in the view from Maya's window.
Story 3 (Auggie): With Lucas and Farkle still out trick-or-treating and Riley still at Maya's, Auggie asks Cory and Topanga if he can sleep in their room with them, but they insist that Auggie sleep in his own room by himself. Auggie is afraid of a monster under his bed, and for security reasons, he places Mr. Googly at the foot of the bed. Mr. Googly is suddenly take under the bed, and Auggie reaches for him, only to pull out a blob-like thing. The monster, with a child's voice, calls from under the bed, asking for his "Mr. Blobbity" back. Auggie agrees, on the condition that Mr. Googly is unharmed. The two meet face-to-face, and the "monster" child introduces himself as Simon P. Littleboyeater. They realize that both were scared of each other, and Auggie doesn't seem scared anymore. Because of this, Simon has to leave to scare other children by hiding under their beds, despite Auggie's protests that they are now friends. Simon produces a box of Auggie's thought-to-be-lost possessions, but Auggie tells him to keep them. Simon gives Auggie a final look before leaving the bedroom, unseen by Cory and Topanga who enter to check up on Auggie.
Epilogue: In a Halloween twist, after Auggie thanks the audience for watching, he reveals himself to be Simon P. Littleboyeater in disguise.
Cast
Main cast
Guest cast
Quotes
To be added.
Trivia
Auggie breaks the fourth wall, serving as the host/narrator. His capacity in this episode pays tribute to several classic TV horror and suspense hosts, including "Ghoulardi", "Svengoolie", "Count Gore de Vol", Bob Wilkins and especially Alfred Hitchcock.
As part of Disney Channel's "Halloween Special Week", the episode premiered on Thursday instead of Friday.
Riley, Maya, Farkle, and Lucas dress up on Halloween as steampunk versions of a Western Showgirl, Ringmaster, Aviator and Cowboy respectively.
Maya keeps a ferret named Ginger as a pet.
First appearance of Maya's home and the only appearance of Angela Hart.
The guitar music which played in Michael Jacobs Productions tag was augmented with spooky sound effects.
There were two sequels to this episode, one each in seasons 2 and 3, although they both only featured one story each instead of the three in this episode.
Character Costumes:

Auggie - Vampire, Alfred Hitchcock
Riley - Steampunk Showgirl
Maya - Steampunk Ringmaster
Farkle - Steampunk Human Cannonball
Lucas - Steampunk Cowboy
Sarah - 1950's Bobby Soxer
Darby - German Beer Girl
Yogi - Tarantula
Nigel- Ancient King
Dave - Nerd
Jade - Jungle Girl
Clarissa - Geisha
Coach Gleason - Ballet Dancer
International premieres
October 23, 2014 (Latin America, Brazil)
October 31, 2014 (Australia and UK & Ireland)
January 18, 2015 (Romania/Bulgaria)
February 15, 2015 (Italy)
February 21, 2015 (Czech Republic/Hungary)
February 28, 2015 (Poland)
March 5, 2015 (Israel)
October 25, 2016 (Philippines)
Videos
Gallery
| | |
| --- | --- |
| | The image gallery for Girl Meets World: Of Terror may be viewed here. |
Transcript
| | |
| --- | --- |
| | To view the Girl Meets World: Of Terror transcript, click here. |
References