"
You're always popular with your best friend.
"
Girl Meets Popular is the sixth episode in season 1 of Girl Meets World. It aired on August 8, 2014 to 2.4 million viewers.[1]
Overview
Riley is surprised when she gets invited to a party that doesn't include Maya. However, once she arrives, she soon learns it is a party filled with unpopular classmates.
Plot
The episode opens with Riley and Maya coming down the stairs where Riley notices a guy putting invites to a party into lockers. She excitedly asks Maya if she knows what's happening and after a few exchanges and even doing a popular walk, Riley says that this is where her and Maya go different ways. They both agree that Maya is the more likely one to get invited, but it is quite the shock when Riley is the one who is invited instead. She asks Maya if it's okay that she is happy and after Maya says yes, she excitedly walks off to which Maya quickly follows after, saying she is a lot of work. Then Riley gets to the party and turns out It was a "geek" party, and the tall hip guy was 2 little geeky boys In a coat, hat, and sunglasses. Riley realizes this, but stays at the party anyways because Farkle, who hosted the party, said that him and his geek friends thought she was one of them.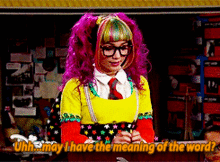 The next day comes, and Riley is dressed in a Harajuku outfit because it made her popular with the geeks at the party. Maya does not think this is really Riley, so when Riley is in a spelling bee she gets Riley to realize that she just has to be herself.
Meanwhile, Topanga took Auggie to Svorski's bakery. The bakery owner Mrs. Svorski then revealed that they were closing down her bakery due to not enough business. Harrison Miller, Topanga's lawyer coworker, came in to evict Mrs. Svorski. Topanga then went home and looked In her mirror, and saw her old "Boy Meets World" self. Then, Cory came in and hugged Topanga claiming that the image in the mirror was the Topanga he first fell in love with. That is when the flashback to Cory and Topanga In Boy Meets World happened. Then Topanga came up with enough money to buy the bakery from Mrs. Svorski, with Cory as her coworker in the bakery.
Cast
Main cast
Special guest star
Guest cast
Absent cast
Trivia
Peyton Meyer (Lucas Friar) doesn't appear in this episode.
This is the first episode in the series where a main character was missing.
Cory was similarly invited to a party full of unpopular students, and Shawn wasn't invited like Maya wasn't, shown in the Boy Meets World season 2 episode "The Uninvited." He refers to the episode in the beginning when he says to Riley he wasn't invited to many seventh grade parties, seemingly regretting that memory.
Willie Garson becomes the first non-regular guest star to appear in both Boy Meets World and Girl Meets World.
First appearance of the Academic Halves (Top and Bottom Half) who return in Girl Meets Smackle.
First appearance of Milton who returns in Girl Meets Farkle's Choice.
First Appearance of Svorski's Bakery.
A scene from the Boy Meets World season 1 episode "Cory's Alternative Friends," where Topanga is first introduced, is shown as a flashback.
As of this episode, Cory and Topanga own a bakery together with Mrs. Svorski. 
Former Boy Meets World co-stars Maitland Ward and Trina McGee attended the taping. Maitland Ward portrayed Rachel McGuire, and Trina McGee portrayed Angela Moore.
Years earlier, Topanga (Hair), Cory (Brainiac 14), and Shawn (Lips) defeated the Philadelphia chapter of the Einstein Academy in a televised knowledge show, 
The dress Topanga is wearing in the mirror bears some resemblance to the one she wore when doing her "Doughnut in the Sky" poem in Boy Meets World.
For the Afterbuzz TV review of this episode click here.
The fact that the lawyer, Harrison Miller, wanted to turn the bakery into a yogurt shop is similar to how Oz's mom wants to turn Oz Comix into a yogurt shop on Fanboy and Chum Chum, a Nicktoon.
"100 People (In Line For The Bread)" was sung by Mrs. Svorski.
When the scene shows Topanga speaking with her former self in the mirror, Danielle Fishel has a body double. This is the first time a body double is used in the show.
Rowan improvised Riley's "party girl walk" in this episode. [2]
International premieres
August 29, 2014 (Canada)
September 28, 2014 (Latin America, Brazil)
September 29, 2014 (Australia)
October 10, 2014 (UK & Ireland)
November 29, 2014 (France)
December 13, 2014 (Czech Republic, Hungary, Middle East, Africa)
December 14, 2014 (Italy, Romania, Bulgaria)
December 27, 2014 (Poland)
January 29, 2015 (Israel)
February 20, 2015 (Spain, Portugal)
March 1, 2015 (Japan)
May 18, 2015 (Germany)
Gallery
| | |
| --- | --- |
| | The image gallery for Girl Meets Popular may be viewed here. |
Videos
Transcript
| | |
| --- | --- |
| | To view the Girl Meets Popular transcript, click here. |
References