"
You hope for things, you get disappointed.
"
Girl Meets Maya's Mother is the seventh episode in season 1 of Girl Meets World. It aired on August 15, 2014 to 4.1 million viewers.[1]
Overview
When Maya's artwork is featured at a school event, Riley sees it as an opportunity to help Maya mend her relationship with her mother. Meanwhile, Cory and Topanga get a surprise visit from their childhood friend, Minkus.
Plot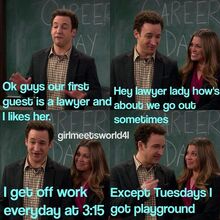 The episode starts at school, with Farkle walking into art class, wearing a robe. He moves the fruit from the center of the class, and states that they should draw "a real piece of art." He takes off his robe, much to the disgust of Maya and Riley.
Riley questions why they are not drawing Lucas, and Ms. Kossal states that nobody looks like that and they should get used to someone similar to Farkle. She then says that when drawing him, they should start with the eyes, Farkle poses, showing off his "guns." Riley sees Maya's drawing and repeats what the teacher said, that they were meant to start with the eyes. Maya tells Riley that her problem is that she does not listen. Maya then informs Riley that she is drawing Lucas. Riley is convinced that she and Lucas will be part of the Paris Art Scene when they grow up, and Maya makes fun of her with a drawing over her speech. Seeing her drawing of Farkle as a baby bird in a nest, Ms. Kossal urges Maya to enter her work in an upcoming school art exhibit, but she declines the offer.
Cast
Main cast
Recurring cast
Quotes
[Maya's mother, Katy, arrives.]
Katy: Hello, I am so sorry for interrupting.

Maya
: Oh no.
Lucas: Your name is Farkle Minkus?
Farkle: Don't wear it out.

Lucas
: I don't know how you could.
Maya: Lemme paint you something.

[Maya splatters paint on Riley's face.]
Topanga: Hey, Riley!

Riley
: Oh, look, Shakira's here.
Farkle: I'm a bird to you?
Maya: No, you just need to be protected.

Farkle: You love me.

Maya
: Leave me alone.
Cory: Your mom's hips don't lie.
Riley: Bonjour, Lucas.
Lucas: Bonjour, Riley. Peut être vous et moi serons à Paris ensemble."

Riley
:
[Stares]
Bonjour, Lucas.
Riley: Get out of my way.
Riley: Did you think I wouldn't hunt you down?
Katy: No, I was pretty sure you would. You want a tuna melt?
Riley: No, because I'm supposed to be somewhere, and so are you.
Katy: Y'know, all I do with Maya is disappoint her.
Riley: Here's what's funny. You're not disappointing her at all; you're only disappointing me.

Katy
: I came to school and embarrassed her. I pretend I'm fancy, but I'm not. I thought I had a good marriage, but I didn't. I pretend to have a career, and I don't. I love that little girl, and I won't pretend with her.
Katy: Riley, what does your dad do for a living?
Riley: Teacher.
Katy: And mom?
Riley: Lawyer.
Katy: And me?
Riley: Actress?

Katy
: Waitress, Riley, and people tend to stay at the same level as their parents. And I want more for her than coming home with those little arms of hers covered in pancake syrup. Maya's very lucky to have you. Don't think I don't know that. And I am offering you a tuna melt to show my gratitude. Yes or no?
Trivia
Riley refers to as her mother, who dances by shaking her hips, as Shakira. In the Disney Channel Universe, international pop star Shakira is actually Kelbo Russo from Wizards of Waverly Place.
In an interview, Peyton Meyer (Lucas) said this episode was the episode he most liked to film, and he really wanted to see it premiere. 
When Lucas was speaking to Riley in French, he said, "Peut être vous et moi serons à Paris ensemble." Translated into English, it means, "Maybe you and I will be in Paris together."
Farkle's last name is revealed as Minkus.
Farkle's self-description of "48 pounds of nasty" is a reference to when Cory described Farkle's father, Minkus, as "48 pounds of near-sighted geek," in the Boy Meets World episode "She Loves Me, She Loves Me Not."
Stuart Minkus is the fourth BMW character to appear in GMW
In this episode, Cory shows Riley his talent as a magician. In the Boy Meets World season two episode "Band on the Run," when some girls in Chubbie's think Cory and Shawn are musicians (which Cory mishears as magicians), he tells them that he can pull a rabbit out of a hat.
The "A" rivalry between Minkus and Topanga continues from Boy Meets World.
This episode aired at 9:45 pm instead of 8:30 pm, due to the premiere of the new DCOM, How to Build a Better Boy.
This episode introduces Maya's Mother, Katy Hart played by Cheryl Texiera.
In another parallel between Shawn and Maya, Maya's parent is introduced due to Career Day (albeit showing up a day late, while Chet showed up on time). In each case, the parent is introduced by telling the class a tall tale.
Career Day (in a BMW episode of the same title) is also what introduced the first incarnation (played by Monkee Peter Tork) of Topanga's father, Jedidiah because he is later portrayed with two different actors.
This episodes implies that Farkle was mistaken in "Girl Meets Father" when he celebrated his 700th 'A,' as the conversation between Topanga and Minkus clearly indicates that he must have received his 500th 'A' on that occasion.
Riley trying to figure out what was special about her is a reference to the Boy Meets World episode "Better Than the Average Cory" when Cory thought he was average, and Riley telling Auggie that they've been lying to him about how great his drawings were, like when Cory told his sister to give up on her drawings.
Katy's place of work, the Nighthawk Diner, is named for a famous painting by Edward Hopper called "Nighthawks," featuring a late night diner scene painted in 1942.
Previously, Cory favored form of potatoes was scalloped, but (possibly due to the messy breakup with his first girlfriend, Wendy Jansen) he now prefers them mashed.
This is the second most-watched episode of the show, the first being Girl Meets World.
For the Afterbuzz TV review of this episode click here.
At the end of the episode, Riley and Topanga are tied with Farkle and Stuart in the "A" competition
International premieres
September 12, 2014 (Canada)
October 4, 2014 (Latin America, Brazil)
October 6, 2014 (Australia)
October 17, 2014 (UK and Ireland)
December 7, 2014 (France)
December 20, 2014 (Czech Republic, Hungary, Middle East, Africa)
December 21, 2014 (Romania, Bulgaria)
December 27, 2014 (Poland)
January 18, 2015 (Italy)
February 5, 2015 (Israel)
February 27, 2015 (Spain, Portugal)
March 8, 2015 (Japan)
May 19, 2015 (Germany)
August 16, 2016 (Philippines)
Gallery
| | |
| --- | --- |
| | The image gallery for Girl Meets Maya's Mother may be viewed here. |
Transcript
| | |
| --- | --- |
| | To view the Girl Meets Maya's Mother transcript, click here. |
References